Enterprise Risk Management
Enterprise Risk Management (ERM) is a systematic process of identifying, analyzing, and responding to anticipated future events that have the potential to generate unwanted effects. ERM should be viewed as an ongoing and continuous process within an organization. ERM helps in creating and preserving organizational values and importantly aids in better decision making. ERM is an integral and a critical part of governance and culture in an organization. Risk mitigation avoids litigation.
Enterprise Risk Management - How KPI can Assist?
KPI's ERM professionals ensures business risks are appropriately considered (identified, assessed and managed) and is integrated with the performance management. We guide and handhold the business to identify risks in their respective business areas and to prepare and implement the mitigation plans for smooth business operations. We adopt a consultative approach comprising interviews, surveys and workshops to identify risks.
Your organization benefits with our tested methodology with
ERM framework development
Risk assessment workshops
Risk register with risk ratings and mitigation plans
Risk reporting templates
Our team's decades of experience in ERM Advisory in UAE enables us to provide turn-key solutions.
Get the Right Guidance.
Send Inquiry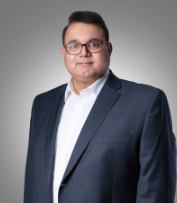 Speak to Our Team
Rajgopal Pai
Partner - Advisory
Tel: +9714 455 1010